Projects
TwinSed
Collaboration with Diana Scarborough (UK)

In this collaboration we exchange postcards. We both start some postcards every month. On the 15th, we swap the postcards and we finished them. The project started in May 2013 and is still going on.
Thuis - Het huis van mijn jeugd
This project is about
the home of my youth
. Artists are asked to portray the title of this project in a box. These boxes come for 3 weeks in humans to stand at home. On the weekends you can come and see the boxes. In the houses are recited poems simultaneously.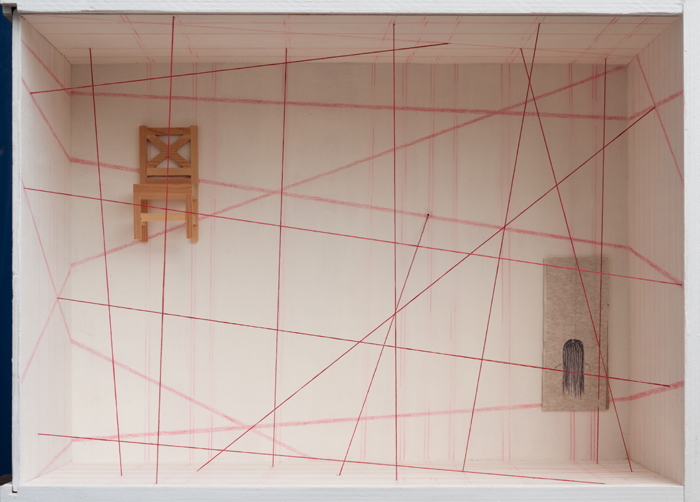 For more information,
click here
Organization: Stichting Kunstzee, Zeevang, The Netherlands
Projectdate: 2011
Das Schwarze Revier Revised
Heinrich Hauser photographed the Ruhr area in 1929 in his project Das Schwarze Revier. During my visit to Zollverein in Essen I have seen the exhibition Das Schwarze Revier. A weekly calendar with pictures of Heinrich Hauser is the inspiration for this work. On Monday, I turn a page. The photo of that week is the starting point for the painting of the week.
Sojourn in White
International collaboration with Behrouz Rae (Iran), curator Claire Watson (Australia)
Project description:
This project engages international multi-disciplinary dialogue between three active arts professionals. Curated by Australian based artist and curator: Claire Watson, two artists have been selected to collaborate in an exhibition entitled
Sojourn in White
. The Iranian artist Behrouz Rae, and Dutch artist Ilse Van Den Berk were sourced during a residency at Saksala ArtRadius in Haukivuori, Finland. Immersed in a white snowy environment, they were busy creating new work exploring the interior and exterior of the residency premises but under curatorial counsel, their diverse practices have collided.
Van Den Berk is an abstract painter whilst Rae is a multi-media artist. Together they have commenced collaborative work based on the dominant shade of Finlands winter: white. From white, colour is born. Van Den Berk and Rae are connected by an interest in exploring this achromatic theme through creative negotiation. In the coming weeks both artists will extend their practice beyond its traditional scope. A studio space has been set aside solely for this purpose as they work together toward the one goal. As they venture into a course of collaborative intervention, they will be guided into new and challenging territory; they will embark on a sojourn in white.
For more information,
click here
Projectdate: 2008